The Tiny R7 is a newcomer to the family of LDARC brushed nano racers, formerly King Kong.
It takes the classic form of a Tiny Whoop, a little larger since its diagonal motor motor is 7.5 cm.
The engines are 820 to 16000KV, so fast but not exceptional.
They lead 4 cm quadripal propellers.
The flight controller is a F3 SPRacing flashed with Betaflight.
The camera is an 800TVL with a 150 ° angle, which can be tilted by 10 °, associated with a 5.8 GHz video transmitter with 16 channels and a power of 25 mW.
The battery is a 3.8V 450 mAh 50C LiHV with a PST PH 2.0 connector.
The weight ?
38.8 grams (with a radio receiver).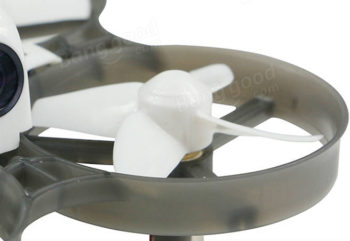 Nothing new ?
At first glance, the Tiny R7 is not much different from the Tiny 7X of the same brand.
But he has a nice function: the "flip over after crash": he knows how to turn if he is on the back, briefly running two engines only, in the same direction.
This technique usually requires brushless motors and DShot600 ESCs.
How is the function possible with Betaflight?
This may be the use of Texas Instruments H-Bridge DRV8850 drivers (mentioned in the data sheet) that would be used to reverse the direction of rotation of one of the motors.
Versions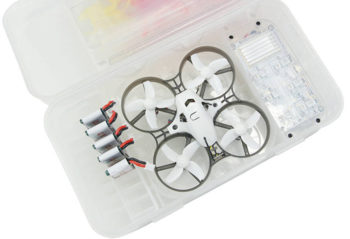 The Tiny R7 is offered without a radio receiver (for you to add yours), with an FM800 (Futaba Fasst), a DSM2 (Spektrum), an FS-RX2A (Flysky), or a receiver built into the compatible flight controller both FrSky and S-FHSS.
The Basic version of Tiny R7 comes with a battery, a USB charger, a battery tester, from $63.99 at hobbywow (with the port but excluding taxes).
The Advanced version is supplied in a box with a 6-slot charger to power with a big battery, 5 batteries, 3 colored fairings, from 82 €.